We are closed during the Coronavirus Stay-at-home period Stay safe and we will all get through this together and we'll see you when it's over!
Follow us on for latest info
Welcome to the Emmett Valley of Southwest Idaho!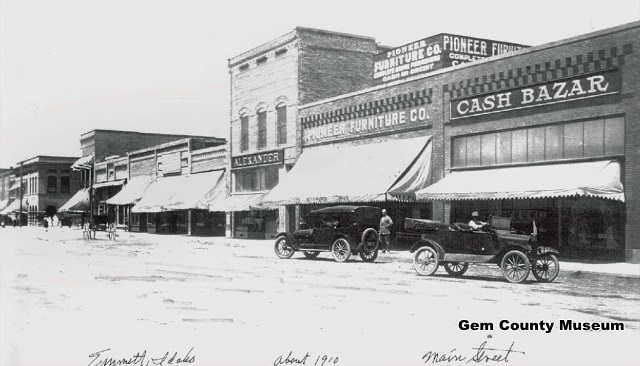 One hundred-fifty years ago, in 1862, Tim Goodale led a wagon train across the Payette River, then north, up Haw Creek . . .

Fur trappers were in the area as early as 1818 . . .
Later in 1862 the Gold Rush to the Boise Basin came up the Payette River valley . .
The next summer farmers along the river started raising crops to supply the Boise Basin mines . . .
Nathaniel Martin and Jonathan Smith built a ferry crossing just west of the present-day bridge . . .
Squire Martin established a post office as EMMETTSVILLE October 31, 1868; see "What's In A Name?" by Director-Curator Meg Davis ~ (Post Office History)
Emmettsville's merchants from Langley's 1876 Business Directory check out our walking tour.
Gem County was established in 1915 from portions of Canyon County and Boise County, with Emmett as the county seat.
Hawley's 1920 History of Gem County and Emmett, history in detail.
The Village Museum is open year round. Admittance is free. Donations are always appreciated. Tours are available.
Membership meetings with guest speaker programs are held quarterly throughout the year at 7:00pm in the museum. Visitors are always welcome.
Other events are held through out the year.
thanks for stopping by!
THE HUNT HOUSE needs some repairs, donations needed, stop by museum or mail-in - anything would be much appreciated. Matching funds are available once we have something to match to. --- This turn-of-the-century cottage holds the belongings of Governor and Mrs. Frank W. Hunt, as donated by their daughter, Kathryn. Frank Hunt was the fifth governor of Idaho, serving from 1901 to 1903. The Governors office was in his home, but the gaming table was in his office in the capital building.
Contributions may be mailed to the museum at 501 E. 1st, Emmett, ID 83617
or dropped by the museum, afternoons, Wednesday-Saturday
Follow us on
Updated 16 July 2020
Unless otherwise attributed, all photos and text are the property of Gem County Historical Society
Serving Gem County since 1973. ~ © 2008-2013.
Extended hours during The Cherry Festival in June.
501 E. First St, Emmett, Idaho 83617 ~ (208)365-9530
Broken Links? Suggestions? Errors? contact Sharon McConnel, Web Administrator
---