" Voices From Our Past" Cemetery Tour - September 2010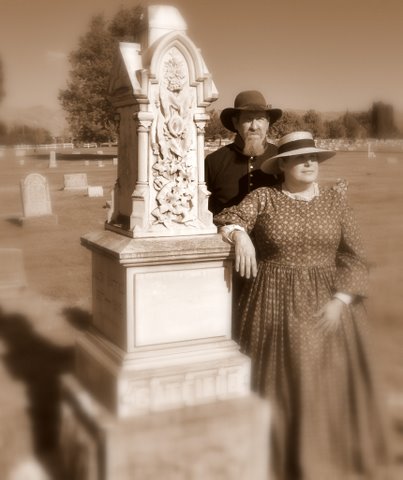 The Gem County Historical Society's Fall 2010 Fundraiser was a cemetery tour -"VOICES FROM OUR PAST" at the Emmett Cemetery (Old Riverside Cemetery). The earliest pioneers of this area greeted participants in period costumes and told the stories of their lives and of the remarkable events that were instrumental in helping to shape early Emmett Valley history.
Visitors met such distinguished persons as Indian Jake Wood, Alexander Womack who was the first blacksmith in Emmettsville, Lawrence Dresser for whom the local VFW post is named and Albert and Martha Wilson who had the honor of meeting Chief Joseph.
They also met Jonathan Smith who, together with Nathaniel Martin, founded the first way-station and operated the first ferry across the Payette River making the Emmett area more accessible to early travelers.
Copyright © 2008 - All Rights Reserved.
Unless otherwise attributed, all photos and text are the property of Gem County Historical Society

Serving Gem County since 1973.
Hours
Wednesday - Saturday 1:00pm - 5:00pm & by appointment :: Extended hours during The Cherry Festival in June.