Esmond Stage Station
Compiled by Sharon McConnel
Nellie Ireton Mills writes in "All Along the River/Territorial and Pioneer Days on the Payette." Privately printed for Payette Radio Limited, 1963. (p. 153f)
"THE MAIL IS ROBBED (1885)
Five miles above the Squaw Creek post office and three below Horseshoe Bend was the Esmond Stage Station, almost midway between Placerville and Falk's Store, where the stage driver stopped for lunch on the down trip one day, and going up, the next. It was a bleak, shacky-looking place with a small house and rickety barn where "Mother Esmond," her then husband, Al Gortz, and her eighteen-year old son, Henry Esmond, the stage driver, lived and ran the Placerville line with pitifully poor equipment. In the spring of 1885, registered letters began to disappear between the Squaw Creek and Horseshoe Bend post offices. Among them was one containing the salary warrant of Miss Mary Cahalan, the teacher at the Anderson place below Marsh and Iretons. Ed Marsh, the Squaw Creek postmaster, marked a five dollar bill and registered it to Henry Clark, postmaster at the Bend, who did not receive it, but the marked bill was spent by Henry Esmond in Placerville that night. Other tracers were sent and an examination of the leather sack showed it had been opened. Henry Esmond was arrested, tried and sent to Federal prison, but it was generally felt that his mother and other members of the family should have been punished also. Their technique seemed to be as follows: Esmond would come in, ostensibly to get warm, while the mail was being sorted on the floor in the livingrooms, both at Horseshoe Bend and Squaw Creek, and watch to see if there were any of the easily-detected large red-striped, registered-letter, Manila envelopes in the mail. When he reached home, the sack would be opened during the lunch stop. Several people lost money, but no great sum was involved. The Gortz family soon left. Later Richard Stephenson1, an Englishman, and his wife and large family lived on the small ranch for several years and descendants are still residents of some of the river communities."
1886, Henry Esmond convicted, of robbing mail stage between Placerville and Squaw Creek postoffices
1887, Esmond escapes U.S. wing Territorial prison
Gortz background -
1881, Gortz admitted to citizenship
1881, Albert G. A. Gortz filed homestead
1882, Mr. and Mrs. Esmond, Al Gortz, Macon Smith and Ed Miller thanked for hospitable treatment on Squaw Creek
1882, May: Esmond has new boarding house at Liberty Mine nearly completed
1882, Al Gortz elected Recorder for Lower Squaw Creek prospectors
1882, Squaw Creek prospectors hunt for placers on Cherry Creek, Al Gortz, district recorder reports
1882, Esmond and Gortz taxes delinquent
1885, Al Gortz in town with a load of fresh butter
1885, Notice to Creditors, estate of G. H. Esmond, A. Gortz Administrator (George H. Esmond, age 47, d. Jan. 31, 1884, buried at Placerville)
1890, Delinquent Taxes,A. Gortz "improvement on land on Payette river, known as stage house"
1In June of 1893 Government Land Office surveyors show Stephenson in the NE 1/4 of Section 31, T7N, R2E,B.M., Boise County, about a mile east of the present-day Gem-Boise County line, between the river and the Emmett-Placerville Toll Road.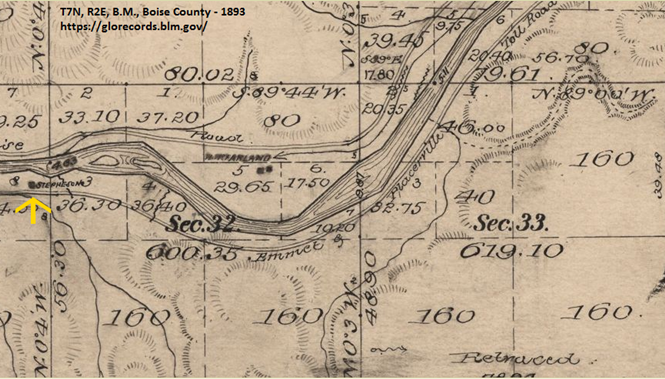 click for larger image
Copyright © 2013 - All Rights Reserved.
Unless otherwise attributed, all photos and text are the property of Gem County Historical Society

Serving Gem County since 1973.
Hours
Wednesday - Saturday 1:00pm - 5:00pm & by appointment :: Extended hours during The Cherry Festival in June.