October 1st (10-5) and October 2nd (10-4) details
A Hands-on Historical Re-enactment, first weekend in October
This free annual event sponsored by the Gem County Historical Society celebrates the people who settled the Payette River between 1859 and 1946. Dress in costume if you have one, pack a picnic or eat at the site and bring the whole family out for an enjoyable day at the River Through Time. "A River Through Time" is located at Gem Island Sports Complex. Take West Main Street to Canal Street. Turn West on Canal Street and follow the signs. Please contact Gem County Museum or phone 365-9530 for information on this year's event.
Meet Oregon Trail Emigrants -
Visit the fur traders camp. They will teach you to throw a hatchet and let you sample their unique(!) food (beaver tail??) -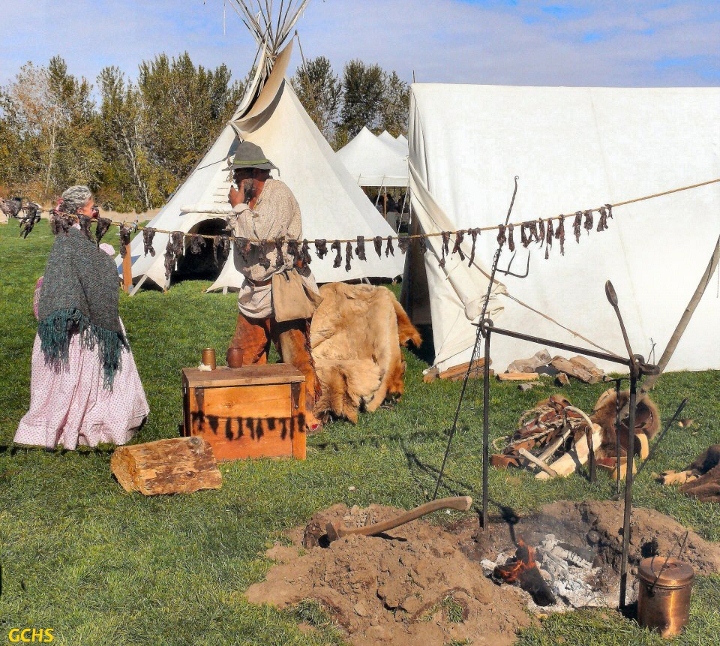 Meet the ICWV blacksmiths, who interestingly enough are actually named Harry Black and Wade Smith! They will be sharing their skills (photo by Marie Hoobery) -
See President Lincoln (Skip Critell) (photo courtesy of Ricki Carr) -
Sample biscuits made by cowboys -
Pan for gold -
Copyright © 2008 - All Rights Reserved.
Unless otherwise attributed, all photos and text are the property of Gem County Historical Society

Serving Gem County since 1973.
Hours
Wednesday - Saturday 1:00pm - 5:00pm & by appointment :: Extended hours during The Cherry Festival in June.